Return to Reunions Page
Atlanta, GA--June 1990
Through the efforts of Dr. Marvin Marchman of Atlanta, GA and Jim Thorne of Pleasanton, TX the FIRST reunion of former Thunderbirds was held at a wonderful golf club in NE Atlanta. Record booze was consumed, according to reports, and approximately 35 guys attended. Interesting to note that practically everyone wore suits and ties to the final dinner.

(L to R) Bob Ulzheimer, Bob Kelley,
Dan Hart, Charlie Bennett and Chuck Haney
(Photo courtesy Tom Payne)
---

Joe Boggs and Chuck Haney,
Thunderbird 6 and 3--together again!
(Photo courtesy Tom Payne)
---

Marv Schmidt, Bob Kelly and Bill Benton
(Photo courtesy Tom Payne)
---
Charlie Prather and Bob Coveney
(Photo courtesy Tom Payne)
---

L to R: Ken Dolan , Bill Wieland &
Charlie Jackson
(Photo courtesy Tom Payne)
---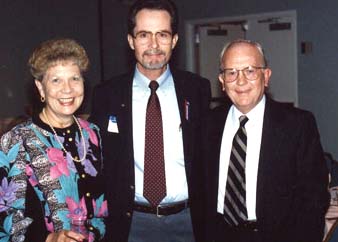 Mrs Bill Bradner, Tom Payne, Bill Bradner
(Photo courtesy Tom Payne)
---
Return to Reunions Page