| | |
| --- | --- |
| | 118th Assault Helicopter Company |

Thunderbird
News &Updates
This page is designed to provide former 33rd/118th Thunderbirds with news and information about what is happening today. It will be updated as needed with items of interest the webmaster believes would be of general interest to all former Thunderbirds. The latest update will be at the top(immediately below) and the oldest going down the page. If you have something you think might be of interest to all former Thunderbirds, in general, send it to the webmaster.
---
August 28, 2007
Summer is just about over and all the sceduled reunions are over, as well. It is back to school! Opps!!! I doubt many of you former Thundebirds still have kids in school.....probably Grandkids.
REUNIONS:
1. Photos for the VHPA annual reunion in Phoenix, AZ and the 145th CAB bi-annual reunion at Ft. Rucker are on the web site at: http://118ahc.org/Reunion2006.htm#anchor104763
2. Then at Andalusia/Opp airport on June 22, 2007, there was a wonderful dedication of a "Huey on a stick". Former Thunderbird, Bill Benton, is the General Manager of the Andalusia/Opp Airport Authority and the Huey, while a Vietnam veteran, was painted and designated Redbird 10 to commemorate the one Bill had heavily damaged that fateful day in
LZ Gold(March 19, 1967. Bill's fellow pilot that day, Bob Kelley was also present at the dedication as were about 5 other former Thunderbirds. Thanks to Brian Wizard, you can view much of the ceremony plus interviews by a local TV station on "Youtube" at:

http://www.youtube.com/watch?v=0hFTOjZF3KQ
http://youtube.com/watch?v=OBPY78g-9xY
E-MAILs & CONTACTS:

Since the last update a number of folks have emailed and responded to our web site. Hereare some of them.....
1. I am hoping that I am responding to the Thunderbirds. One of your comrades in action has left us. Robert "Bob" Konopka passed away May 7th from lung cancer (The VA says Agent Orange exposure.) Bob died after a brief battle with lung cancer at his home in Weeki Wachee. He was commissioned as a warrant officer and assigned to Southeast Asian Combat Unit 118 AHC as a helicopter pilot. His tour of duty was served in Vietnam from July 1968 to June 1969. His was very proud of being a Thunderbird. I know he was looking forward to the reunion. This is his wife. I am sorry so much time lapsed before I could respond to this email. I have not started his computer since he passed away. The world has suffered a tragic loss. His famous moustache, his quick wit, and his impeccable knowledge of aviation will be missed by all.
Robin Konopka robin@avatair.com
2. Carla Sammons Thu Aug 16 14:47:38 2007 I am the daughter of Carlton Sammons. I would like to hear from anyone that might remember him. All I know is that he was part of the shooters and stationed in Hawaii before being
deployed to Vietnam. Do not have Email adress. Please feal free to write me at home. 6012 Poplar Rd. Albany GA. 31705.
3. AAron Todd Ellzey ellzey007@hotmail.com Hello Gentlemen. I am the son of SP/5 Milton Ellzey. I am happy I stumbled across your website and was able to see my father in one of your pictures taken by SP/4 Little, the CE of "Birth Control". Milton passed away in November 2003 from colon cancer. He is greatly missed. Feel free to contact me, I would
love to hear some old stories. Thank you. Disabled Veteran, CPL, Blackhawk Crewchief 1992-1999.
4.David Adams Franklin, KY. papa@nctc.com A great website, & I honor each & everyone of you guys who did what their country asked them to do. My brother James Richard Adams served with 118th. October 1966 until April 22, 1967 KIA as doorgunner on Tail# UH-1D 65-09957 when it ran out of fuel & crashed into cemetary just outside of home base, KIA 6 of 10 military personel. If anyone knew my brother I would love to hear from all. Does anybody know how to get in touch with CE E3 Norris G. Bridwell who survived this crash. Thanks & GOD BLESS
5. Lisa Elliott Vader vaderle@suddenlink.org My dad was Tommmie (Tom) Elliott. He served in the 118th AHC in the Choppers. He was a pilot in 64-65. He passed away in 1994. My son is currently in the Corps of Cadets at Texas A&M and is learning about Vietnam in his history class. He started researching Dad and found the site. I wasn't even aware it
existed but am thankful he found it. It has stirred powerful memories for me and has helped my son understand better about this portion of his grandfather's life. Thank you.
6. Ken Philpott kphilpott@bellsouth.net I was crewchief in 2nd platoon from 66 to
67.I crewed Blue 2 and Blue 9.
ITEM OF INTEREST:
As you know from the Thunderbird web site, there is a former UH-1C Gunship, fully restored and armed at Tobyhanna Army Depot. Thanks to former Bandit 3, "Miss Mini" Crew Chief Fred Echelmann, who works at Tobyhanna, he headed up the restoration of the present day " Miss Mini" back in the early '90s. Well, she is still on display and still being trailered around the N.E. US wowing crowds wherever she goes. David "Killer" Evans, former Thunderbird from the 68-69 era and still working for the US Army sent an email and link to the June 19, 2007 "Tobyhanna Reporter" at: http://www.tobyhanna.army.mil/about/news/PDFs/06-19-07.pdf
Look on Page 3 for a wonderful photo of "Miss Mini" being loaded on a flat-bed trailer for transport to a showing. Thanks for the headsup Dave and the link.
I probably missed something with this Thunderbird Update. Seems I hear from someone several times a week. I try to file them and save those contacts and items for the next update. This Thunderbird Update will be posted on the Web site, also.
So, until next time.....Thanks to one and all.
Tom Payne
bandit32@cox.net
Tulsa, OK
918-298-5132
---
April 5, 2007
Hello Thunderbirds,
Time for a Thunderbird Update and to tell you what is going on in the lives of some of our "ole Thunderbirds"!! And you need to be aware of some things happening that involve us and our legacy.
REUNIONS:
1. An especially important event to take place will be the re-dedication of "Turchi Hall" at Ft. Rucker which was named a couple years ago in honor of 118th Thunderbird and Bandit Crewchief, SP4 Louis Turchi, KIA in Vietnam, Oct 14, 1966. SP4 Turchi was from Philadelphia, PA. When the building was originally named Turchi Hall, there was a dedication. However, there was very little available, as far as memorabilia is concerned, to make a proper display. Recently, there was a box of family donated items, including his Vietnam helmet, found stored with other items at the Ft. Rucker Aviation Museum. Also, several other items have been donated to allow DAC Michael Greenwood to create a wonderful display near the first floor entrance to the building in his honor. They would especially like for some guys who knew Turchi to attend the event.
The Directorate of Training and Doctrine requests the pleasure of your company at the Rededication Ceremony of Turchi Hall, 3 May 2007,1300 hours, Building 4507, Andrews Avenue, Ft. Rucker, Alabama

RSVP: NLT 26 April 2007


Ms Lesa Brown
334-255-3502
2. The 145th CAB reunion will be held this year at "Mother" Rucker, AL. Dates are June 22, 23 & 24th. Plan to attend this reunion because there should be a good crowd of guys, both EM and pilots from all the units of the 145th. In the past, our Thunderbirds have usually had the most attendees. Please go to the 145th CAB web site for the schedule and to sign up. Their web site is www.145thcab.com then when you get to their web site click on "Reunion".
3. The Vietnam Helicopter Pilots Association annual reunion will be in Phoenix, AZ this year from July 4-8, 2007. For more info and to register for that reunion go to: http://www.vhpareunion.org/
3. Another event to take place near Ft. Rucker, AL, and hopefully at the time of the 145th CAB reunion in June, is the dedication of a "Huey on a Stick" at the Andalusia/Opp Airport. What makes this special is that the Airport Manager is a former Thunderbird, Bill Benton. And, this Huey is the one that Bill and his close friend Bob Kelley were in when Kelley was wounded at "LZ Gold" on March 19, 1967 during the Battle at Soui Tre. No definite details available, but they will be forwarded to you when known.
E-MAILS:
1. Jim Hill, a Spartan Tower operator there in 1966, found our Thunderbird web site and sent an email, " The first pic (photo unavailable at this time. To be posted later) is a short timers party in a downtown bar. The three guys standing L-R are crewchiefs. You might know their names. The two sitting are my tower chief, Andy Anderson, me and standing behind me another controller, Larry Bruce. The second one is of me,(left) and one of your gunship guys we called "baby killer". Can't for the life of me remember his name. The two of us partied with you guys at the BOQ club until way after curfew one night, after flying a "pigs & rice" mission all day. Rode back with the OD in his jeep wearing a W/O Flight Suit to get past the main gate. It worked." Jim can be contacted at: Killersdiner1@aol.com
2. A guy named Seitz contacted me with this email.... "this is doc also served with 118th as doorgunner would like to have contact with you. can be reached at my email address of tbirdsgary@yahoo.com or my wife's at newburryseitz@yahoo.com looking forward to hearing from you as soon as possible."
3. Irvin Robinson sent an email and said......"118th Bandit Crew Chief A/C 3/4 WO George pilot, Cpt Cubine Platoon Ldr, was Crew Chief when WO Valentine and Lt Miller was wounded would like to hear from anyone that remember incident. I was sp/5 at the time Irvin B Robinson, during this time there were very few African American's as Crew Chief's would like to get this documented for PTSD. reqards." His email is: irvin_robinson2003@yahoo.com
4. David Myer sent an email and said....."I flew with the second platoon choppers and the bandits from march 68 to aug 68. My name is David O Myers. RA16956503. Please get in touch with me for verification." His email is: David Myer olliejr@sbcglobal.net
5. Ken Collins wrote an email to tell of his efforts to memorialize the memory of Richard P. Bubar, the 118th enlisted guy who was killed in the mortar attack on the Bien Hoa Airbase on in 1964. The Thunderbird Day Room was named his honor. " Hello Sir, First and foremost, I want to extend my sincere gratitude to you for your incredibly comprehensive website honoring the men who served at Bien Hoa. I am am 29 yrs old and never had the pleasure of knowing my uncle, Richard P. Bubar, who sevred as a mechanic and died during the '64 mortar attack at bein hoa air force base. I was fascinated to learn more about the mortar attack on bien hoa air force base, like the fact the 52mil mortar rounds were US made. I was also heartened to see the Richard P. Bubar day room photo on your first page of the website. From what the US government told us Richard spent his last moments retrieving soldiers from the barracks and leading them into foxholes nearby, saving many lives. The Richard P. Bubar day room photo adds credence to Governments accounts.
In Ricard's memory I am amassing as many photos of him as I can for archival purposes. I'd like to share those photos with you, as there are many photos detailing the base and regional life. In exchange I'd like to ask for a favor if I may. I'd like to receive any contact information of people who might have known Richard, like David Vandenberg who submitted the Day room photo on your front web page. Maybe a short blurb on your web site with my eMail address may turn up results. I understand this favor may prove impossible or too daunting. I just would like to know more about my uncle during his military days before its too late. Another option: I'll also check to see when the next thunderbird reunion is.
Here's my contact information just in case:
Ken Collins
103 Hall Rd
Watsonville, CA 95076
831-320-9211
kengaroo2@yahoo.com
6. Robert "Bob" Rose sent this email....."I was assigned to the 118th during the period above. I really learned how to fly in this short period. There weren't that many strong D models and with the weaker ones you had to really "baby" them to get what you wanted. I was assigned to the Blues and two AC's that really took me under their wing were CWO Tom White (later commissioned) and CWO Bill Blair. With these fine pilots I learned three corp arty zones and other critical issues. I flew smoke on several occasions and might have some pictures of the smoke ship when I was a PP slick driver. These two ppilots flew lead on many occasions and I was blessed to fly with them.

The day before Thanksgiving 68 We lost one of the Bandits, CWO LaRoque (SP) and two others lost their lives and the fourth was taken into Cambodia, left for dead, but survived. Bill Blair and I went back to the Bird Cage and brought back the Thanks giving dinner for the team at Tay Ninh city strip. The left overs we took out to a SF fire base west of Tay Ninh.

Left in Jan 69 and went to the Delta with the CAV. I still learned to "Fly" with the Thunderbirds. BOB ROSE
7. Teddy Keithly wrote: "Hi! My name is Teddy Keithley, Jr. I am sending this on behalf of my father, Teddy B. Keithley. He served in Vietnam, with the 118th AHC from 1966-1967 at Bien Hoa airbase. He worked as a security guard. Do you have any pictures of the SGs working the front gates? He has some pictures that I might be able to submit to your site if you are interested. Also, do you have any members that worked as security guards? What about future reunions? Anything scheduled for 2007? I have tried to get him to go to a reunion, but alas, he thinks the reunions are for pilots, crewmembers, or mechanics, not some dumb security guard. Any help or information you can give me for the 118th AHC security guards or reunions, would be great. P.S. I think he might have been assigned or attached to the 145th combat aviation battalion. Please email your response to tedleg_71@yahoo.com
Thank you very much for your time!!!! And God Bless you and all of the former soldiers of the 118th.
Teddy Keithley, Jr.
8. Ken Simpson, who has been serving along our US/Mexico border with the U.S. Border Patrol sent this (Ken is on the back row second from left):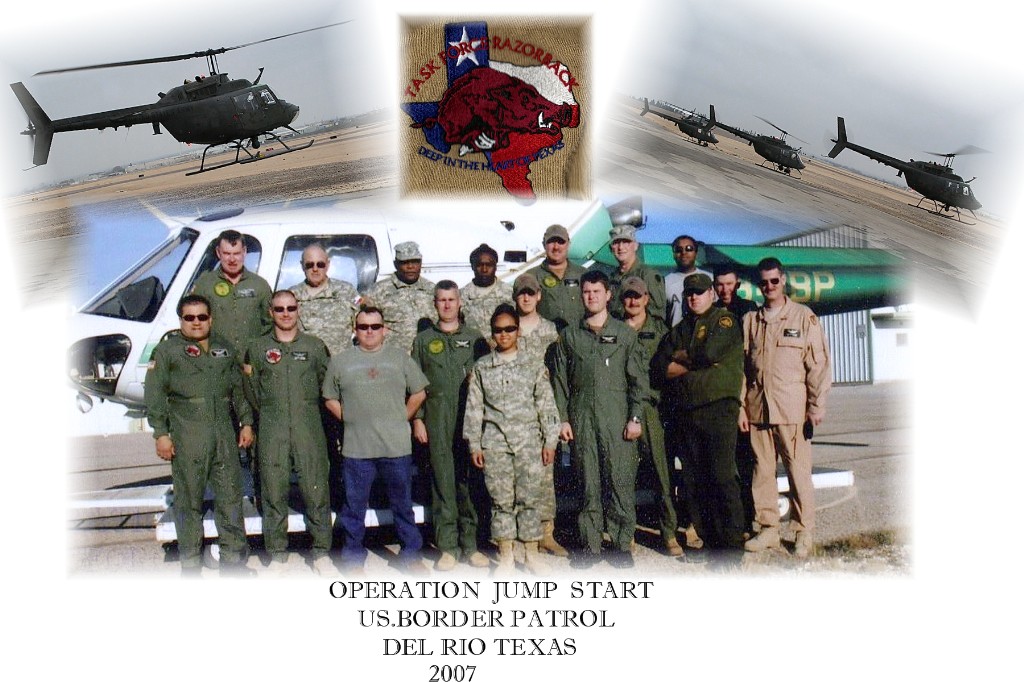 Lastly, Wayne Guffy sent me this URL that will give you a look at old Ft. Wolters, TX.....Then and Now.
If you have not been back to the old Primary Helicopter training place since your training there......it is SPOOKY!
The web site is: http://www.fwcvhpa.org/fw/fw.htm
Please tell me when you change your email address and if you have any questions about this update, please email me.
Thanks again and see 'ya at a reunion.
Tom Payne